Student Engagement
An empowering learning environment like no other
STUDENT ENGAGEMENT BEYOND THE CLASSROOM
Students can engage in the community and cross-disciplinary study promoted by the GCWS in myriad ways. Through courses, attending events, and organizing conferences, our initiatives provide a learning environment unlike any other.
GCWS offers interdisciplinary, team-taught seminars to students enrolled in graduate programs at our member institutions. Our faculty explicitly integrate gender analysis with issues of class, race, culture, ethnicity, and sexualities, and consider the practical implications of feminist theory. Courses are designed to open paths to the creation of new knowledge and provide intellectual support for students pursuing feminist work within the framework of traditional disciplines
Our annual recognition of students, awarding written work that exemplifies interdisciplinary inquiry, innovative thinking, and intersectional investigation.
This prize is an annual award honoring student research and writing in the field of Women's, Gender, and Sexuality Studies. One student will be recognized each year with a $500 award for unpublished written work that exemplifies the three tenets central to the GCWS mission: interdisciplinary inquiry; innovation; and epistemologically self-conscious investigation.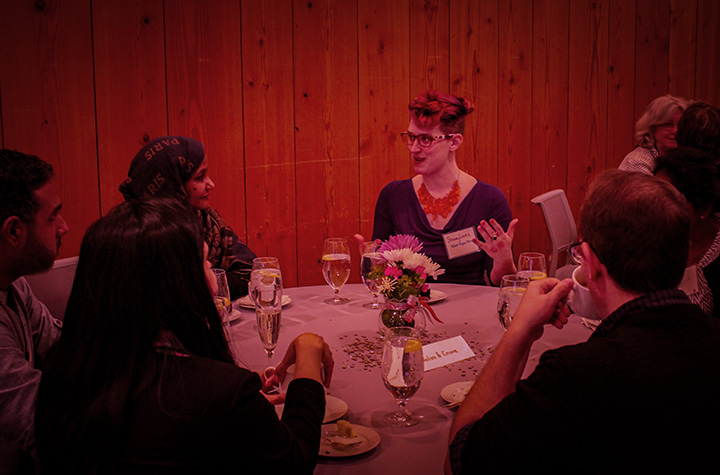 GCWS Conferences
Our bi-annual graduate student conference is a program organized by graduate students for students doing work in Women's, Gender, and Sexuality Studies. This professional development opportunity allows students hands-on experience in event organizing. And, for presenters, it allows presentation opportunities in a rigorous, interdisciplinary environment. Topics vary yearly.
GCWS Events
GCWS events provide students the opportunity to meet and network with fellow students and faculty from across our member institutions. These opportunities, both intellectually engaging and powerfully community building, support the development of a diverse feminist colleague community.
Upcoming Events